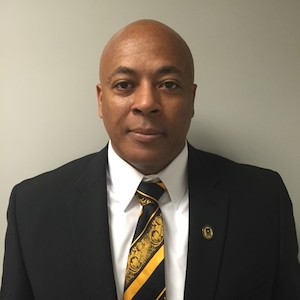 Andre Henderson
Executive Director of Emergency Management/Safety & Security Office of College Services
Community College of Allegheny County
In 1984, Andre L. Henderson started his career in the 82nd Airborne Division as a paratrooper (small arms tactics/explosives expert) for several years. Andre transitioned to the Army Reserves as a Military Police Officer training military personnel in SWAT and Active Shooter Response/Countermeasures.
In 1994, Andre was hired as a Pittsburgh Police Officer. In 1996, he was selected for the Special Weapons and Tactics team where he served as a team leader and SWAT lead trainer. Andre conducted hundreds of SWAT operations and developed policies and procedures. In 1998, he attended Hazardous Device School in Huntsville, Alabama, where he completed a five-week basic course and earned his Bomb Technician certification. He became Bomb Squad Commander in 2003, where he assumed the day-to-day operations of supervising the bomb squad. In 2011, he retired from the Pittsburgh Police Department and immediately started working for the Department of Defense as a contractor assigned to the United States Marines Corp (USMC) as a Law Enforcement Professional (Special Staff Officer). He was deployed to Afghanistan with the USMC where he conducted over 40 joint operational missions with his Afghanistan counterparts. Currently, Andre is the Director of Emergency Management Safety & Security at the Community College of Allegheny County.
His educational background includes a bachelor's in administrations of Justice in 2005 and a Master degree in Criminal Justice and Security in 2008.
To summarize his professional experience, Andre has worked with varies agencies and conducted a multitude of Active Shooter Training for civilians and law enforcement officers.
11/4/2021 4:00 – 5:30 PM