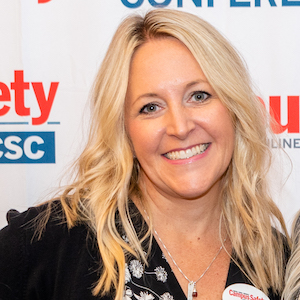 Amy Reddington
Conference Director
Campus Safety Conferences
Amy Reddington is the Conference Director of the Campus Safety Conferences (CSC) which is produced by Campus Safety magazine. She has been a passionate champion of the mission of creating safer schools. Over the past seven years, the Campus Safety Conference series has grown to become a leading voice and has impacted thousands of schools and institutions across the country.
Amy has over 20 years of event and media experience which includes a wide variety of industries and roles and includes major industry trade shows, executive-level conferences, and the 2000 Summer Olympics in Sydney, Australia.
Amy resides in Massachusetts and spends much of her time at the hockey rinks and baseball fields cheering for her 12-year-old twin boys.
11/4/2021 11:30 AM – 12:00 PM
11/4/2021 8:00 – 10:00 AM
11/5/2021 8:00 – 9:30 AM
11/4/2021 10:30 – 11:30 AM
11/5/2021 10:00 AM – 12:30 PM