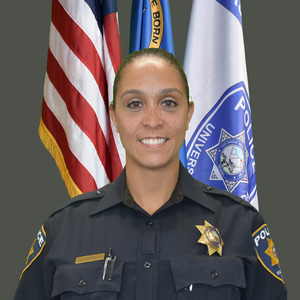 Toni Summerlin
Sergeant
Consolidated Police Services of Southern Nevada
Sergeant Toni Summerlin has served in law enforcement for just over four years and is currently serving as a sergeant and training coordinator for University Police Services. She helped to create the department's homeless outreach unit and serves as a residential life coordinators. She is also certified as a crisis intervention officer.
Toni holds a Bachelor of Science in criminal justice administration from University of Phoenix, which she obtained in 2015. She is also a graduate of the 2016-01 Southern Desert Regional Police Academy with Category I and III POST certifications.
Toni makes it a point to be involved in her community, volunteering with several charities. This includes her own non-profit organization, Hope for Humanity, dealing strictly with community outreach for the Las Vegas homeless population.
She is also a foster parent and has been involved with the Department of Family Services for the past three years. In May of 2019, she and her husband adopted both of the foster children that resided in their home.
7/22/2021 10:30 – 11:30 AM