Meet innovative companies who are looking to share the latest technologies and solutions to help you make your campus safer! 
Milestone Systems is a leading provider of open platform video management software; technology that helps the world see how to ensure safety, protect assets and increase business efficiency. Milestone enables an open platform community that drives collaboration and innovation in the development and use of network video technology, with reliable and scalable solutions that are proven in more than 500,000 sites worldwide. Founded in 1998, Milestone is a stand-alone company in the Canon Group.
Follow on Facebook, Twitter, Instagram, LinkedIn and YouTube.
NGS has earned the window film industry's & 3M's highest accolades as the nation's leading installer of access delay, access denial, and ballistic glazing solutions. As the nation's largest dealer-installer of 3M™ Safety and Security Window Film, TRI-SHIELD®, and Riot Glass®, we help you protect your building's glass against blast, forced-entry, ballistic, natural disasters, and more.
Follow on Facebook, Twitter, Instagram, LinkedIn and YouTube.
Stone Security is globally driving innovation in modern security with award-winning integration between surveillance, access control, and intrusion detection. Our mission is to become the most trusted and sought-after security integrator in the world.
Partner
CCAW offers more than 200 workshops, case studies and hands-on computer labs taught by local and national experts who explore the various facets of these heinous crimes and provide the most cutting-edge, relevant and creative tools that attendees can implement in their professions. Drawing 3,000 annually, CCAW is the only conference that addresses ALL crimes against women with a multidisciplinary focus that encourages a coordinated community response.
Follow on Facebook, Twitter, Instagram, LinkedIn and YouTube.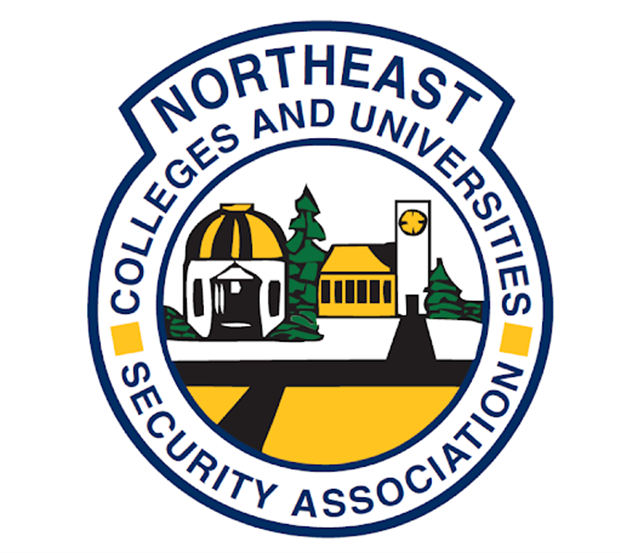 Partner
The Northeast Colleges and Universities Security Association (NECUSA), established in 1953, is the oldest campus law enforcement organization in the United States. The primary focus of NECUSA is two-fold: to deliver cost-effective, high quality professional development opportunities within the northeast region and to create opportunities for networking with colleagues, both in person and electronically.
Visit https://www.necusa.org/
Follow on LinkedIn 

Media Partner
Campus Safety (CS) magazine and CampusSafetyMagazine.com exclusively serve campus police chiefs, security directors, IT personnel, emergency managers and executive administrators involved in the public safety and security of major hospitals, schools, and universities in the United States. The magazine is issued eight times per year and is distributed to more than 18,000 campus safety and security professionals nationwide. Online, CampusSafetyMagazine.com attracts an average of over 94,000 users each month and is growing rapidly to serve the needs of the expanding campus safety market. CS is a product of the leading operator of business-to-business trade shows in the United States – Emerald Expositions. Emerald currently operates more than 55 trade shows, as well as numerous other face-to-face events. For more information, visit www.CampusSafetyMagazine.com.

Media Partner
CSHQ is the one stop source for your entire team to access the online education and information you need TODAY! Learn from experts in campus emergency management, security, and law enforcement on a wide variety of critical issues impacting our schools, colleges, and hospitals. Whether you are a public safety official, security director, emergency manager, administrator or consultant, our growing library of Campus Safety education and resources will help you conduct more meaningful, low-cost, and frequent trainings for you and your organization. For more information, visit www.CampusSafetyHQ.com.
" CSC is the conference to attend. If you are not there, you are missing out! "
  — Scott Leven, Director of Safety and Security, Ozarks Technical Community College