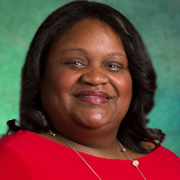 Jamaica Chapple
Assistant Vice Chancellor of Academic Affairs & Student Success
University of North Texas System (UNT)
Dr. Jamaica Chapple currently serves as the Assistant Vice Chancellor of Academic and Student Success for the University of North Texas System. She provides executive leadership and direction for the development and enhancement of systemwide academic and student success initiatives; engages in data informed decision-making to drive program development; and cultivates system-wide communication to garner partnerships necessary for identifying common problems and developing strategic solutions.
Prior to her service to UNT System, Dr. Chapple joined UNT Dallas in 2013 where she served as the Associate Vice President of Student Access and Success and Dean of Students in the Division of Student Access and Success for over 7 years, with direct oversight for the department of Student Affairs, Residence Life, and Student Health Services. Originally from Arlington, Texas, she received her BA in Anthropology from The University of Texas at Arlington, her MA in Marriage and Family Therapy from the University of Louisiana Monroe, and earned her Ph.D. in Counseling and Supervision from Texas A&M University-Commerce.
As a staunch behavioral scientist and board-certified licensed clinician, Dr. Chapple served as a clinical director and assistant professor at Texas A&M University-Commerce. She was also a senior-level mental health executive in the private sector for seven years prior to her transition to higher education. Jamaica is also actively engaged in her community with volunteer efforts supporting the American Red Cross and the North Texas Food Bank.
Her higher education areas of interest include holistic mental health and wellness among students in higher education, first-generation and transfer student success, faculty development, first-year experience, assessment, and mentoring and leadership.
Jamaica is a proud educator. She enjoys reading, traveling, and spending time with her family.
7/19/2022 4:45 – 6:00 PM