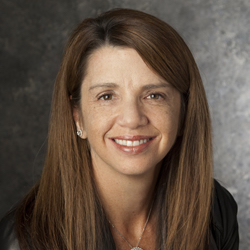 Christine Regis
Chief Business and Financial Officer
Southern Methodist University
Chris Regis oversees and is accountable for the Budgets and Finance Office, Human Resources, Campus Services, Facilities Planning and Management, University Police, Risk Management, Operational Excellence, and Contracts Administration.
Regis joined SMU in September 2007 from the University of California system, where she served as assistant vice president for Administrative Services for the Agriculture and Natural Resources Division since July 2005. Prior to her position at the University of California, Regis served for 12 years at Western New Mexico University as vice president for Business and Administration. She is a certified public accountant, earned a B.S. degree in accounting from New Mexico State University and an M.B.A. degree from Western New Mexico University (WNMU).
Regis is a member of the National Association of College and University Business Officers (NACUBO.) She has also served as a United Way volunteer and a Community Impact Grant Panelist. Regis is a past member of the Hansen Agricultural Center advisory board, Rotary Club of Silver City, Business and Professional Women, Optimist Club of Silver City, and ex-officio member of the WNMU Foundation. She was the Young Careerist for the State of New Mexico and is a Paul Harris Fellow.
7/22/2021 10:30 – 11:30 AM