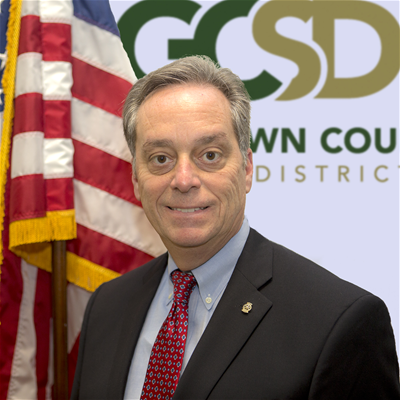 Alan Walters
Executive Director of Safety and Risk Management
Georgetown County School District
Alan Walters currently serves as Executive Director of Safety and Risk Management for the Georgetown County School District, a position he has held since 2014. Under his leadership the district made security upgrades to all of its campuses, created a new Emergency Operations Plan, and revised its discipline policies that led to significant reductions in suspensions and recommendations for expulsion. Walters continues to lead the district's COVID Taskforce.
During this time he has worked with SC Dept. of Education on various taskforces on school safety, discipline and threat assessment programs. In March 2020 Walters was named to the AccelerateED taskforce by State Superintendent of Education Molly Spearman and chaired the Buildings and Student Services Committee.
In 2019 Walters was elected to serve on the South Carolina State Board of Education and currently serves as Board Chair, the only safety director in the country to hold such a position.
Alan has been a presenter at numerous state and national conferences for organizations and numerous professional associations. His work has been covered in several professional publications and Time magazine. His recognitions include being named the 2022 South Carolina District Level Administrator of the Year by the SC Association of School Administrators; the SC Public Risk Management Association's Risk Manager of the Year, and the 2017 National K-12 Safety Director of the Year by Campus Safety magazine.
Walters also spent 17 years as a highly decorated law enforcement officer whose awards include being named South Carolina Deputy Sheriff of the Year while employed at the Georgetown County Sheriff's office and South Carolina Law Enforcement Officer of the Year while serving at the Georgetown Police Department.
Walters earned a B.S. degree in Education from Southern Illinois University and a Master of Criminal Justice degree from the University of South Carolina.
7/19/2022 1:00 – 2:00 PM
7/19/2022 2:15 – 3:15 PM