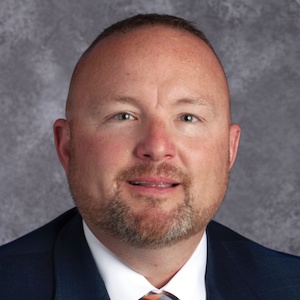 Jason Stoddard
Director School Safety and Security
Charles County Public Schools
Jason Stoddard is the Director of School Safety and Security for Charles County Public Schools (CCPS) in MD. He is responsible for sustaining a safe learning and work environment for 27,000+ students and nearly 4,000 staff members. Since coming to CCPS in July 2018, he created the Office of School Safety and Security, been awarded over $2M in grant money, implemented major evolutions such as revolving backgrounds for all employees, options-based active shooter response, the "I love u guys" Foundation Standard Response Protocols, a state-of-art radio communication system, and implemented a model family reunification process. Since March 2020, he has overseen CCPS's response, mitigation, and recovery from the COVID-19 pandemic. Prior to joining CCPS, he retired as a Lt. with the Charles County Sheriff's Office in Southern MD. His executive command assignments included tours within the Patrol Division and the Special Operations Section. His final assignment was as the Comm. of the Homeland Security and Intelligence Section where he created and built a real-time crime center, the first in Southern MD. He is a veteran (disabled) of the USAF.
Jason has a Master's degree in Organizational Leadership and a Bachelor's Degree in Criminal Justice. He is a graduate of the Northwestern Univ, School of Police Staff and Command, and the FBI Law Enforcement Executive Development Program. Additionally, he is a graduate of Leadership Southern Maryland (2020) and was recently appointed as an Advisory Council member for George Washington Univ's School of Business.
Jason serves as adjunct professor at three universities, teaches executive-level leadership for the MD Police Training Commission, has authored several articles for magazines on topics ranging from school safety to organizational leadership, serves as a consultant for the DOJ and National Institutes of Justice, and often travels the country teaching active assailant response, school safety and 21st century leadership.
6/21/2022 4:45 – 6:00 PM